Below I have listed the paid essential tools and services I use to run my online business.
Very soon I will launch a Chrome extension which gives you access to all free tools & services which allow you to run your business without any costs but it should be clear that the paid solutions I use for my own business will accelerate your results which equals to quicker and more money into your pocket.
Website Hosting:
If you are just starting an online business, prima facie, it could be that my solution won't fit to your plans because I already have tens of websites hosting. At my maximum hosting time I have had 233 websites hosted. I have tested multiple hosting companies, only to find out that I wasted time, money and got much frustration in exchange for my money, until...
3 years ago I found Rosehosting, a secret tip from a close marketing friend. For all my websites I ordered a VPS server and never again regret it. Many marketers recommend hosting solutions like Hostgator, only to make some quick bucks but the reality is that companies like Hastgator suck in its quality, support and limitations. What I love so much abour Rosehosting is that they offer free SSL certificates, their support is super quick (or you can use the live chat to get instant help) and they are already GDPR law certified!

You don't need to order a VPS server if you are just starting your online journey. Rosehosting also offers inexpensive website hosting for onl
y

1 or a few websites. Their prices are even lower than the ones from companies like Hostgator who hide their costs behind a forced 36-month billing cycle which means you have to pay for 36 months in advance to get a high discount and when you later recognize that their ho

s

ting sucks

,

it is too late to change your decision.

You can check out all details about Rosehosting by clicking the banner below or use the link below that banner.
Rosehosting
Proof of my Monthly Payments for the Rosehosting VPS server (since 2015)
Since list building is one of the most important parts of my online business to generate the income I focus on, since 2005 I used a reputable service which guarantees high delivery and open rates called AWeber.

The problem is that more and more spammers use AWeber as well resulting in decreasing delivery and open rates more and more.

There was a time I have had 2 AWeber accounts for different businesses but when I found out that I could add more subscribers to any account for the same super-low fee I paid (I joined 2005 and at that time the price was just $179/year for 10k subscribers) I sold one of my AWeber accounts to one lucky, loyal guy who is already on my list for many years. Nowadays if you want an Aweber acount for up to 10k subscribers you have to pay $69/month but of course you can start smaller for $19/month for up to 500 subscribers and as soon as you make some profits from your list building efforts, you can upgrade your account!

Now you surely ask why I didn't cancel my remaining AWeber account as well if the delivery and open rates decreased that much? The reason is that AWeber provides a powerful API which allows tons of 3rd-party tools to integrate this autoresponder service into their tools for automatically adding new subscribers while using their tools. This is a very big advantage!

You can check out all details about AWeber by clicking the banner below or use the link below that banner.
AWeber
Proof of my Annual Payments for AWeber (since 2005)
If you think you cannot afford the increased monthly fees AWeber is asking right now, here is the perfect solution for you I joined years ago as well. It is called Unselfish Marketer which contains all required tools you need to run your online business in one platform and that for a price much lower than you have to pay for an autoresponder service.

Unselfish Marketer provides 999 domains webhosting, free autoresponders, free access to 50 additional membership sites, 10,500+ PLR/MRR/RR products & much, much more! Save 100s of dollars per month now!

You can check out all details about Unselfish Marketer by clicking the details link below. Special link: 50% OFF for the 1st month!
Unselfish Marketer Details
Product Creation / Selling

:
If you want to run a similar online business like me that you want to create your own products and/or sell PLR/MRR/RR products (I recommend to make them unique first) you need some good resources for high-quality products.

There are multiple resources available but below I will list the two ones, I am a long-time member with which should prove it's high-quality because I nearly tested all of the available membership sites and I stuck with them.

The first resource is called Monthly Content run by Ryan Shaw since 2008. He updates his site several times per week with new resalable products. It includes premium hosting as well which means you don't need to rent web hosting from another company and save some money this way.

You can test-drive MonthlyContent 14 days and download as much as you want by clicking the banner below or use the link below that banner. If you don't like it you never pay a cent for any of the products. - I bet with you that you stay a member for decades like me ;-)
Monthly Content (14 days free trial)
Proof of my payments for Monthly Content
An even more powerful solution and my #1 preferred membership site is called Unselfish Marketer. It's monthly fee is a bit higher than for Monthly Content but it provides so much value that you don't need access to any other membership site! I am a member since 2008 and never regret it.

It provides the same features like Monthly Content but includes additional membership sites worth hundreds of dollars per month. It helped me to save thousands of dollars in all the years since Jay Kay the owner of this site bought most of the products for his members who asked for them to help them saving their own money.

You can check out all details about Unselfish Marketer and backdoor access to a nice 50% OFF the first month by clicking the banner below or use the link below that banner.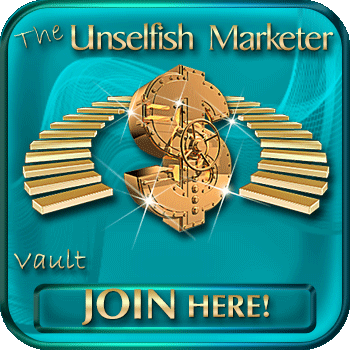 Unselfish Marketer (50% OFF first month)
Proof of my payments for Unselfish Marketer